Posted by Jonathan on Nov 22nd 2020
Aromatherapy essential oils are doing wonders in treating a plethora of issues faced by people at large. It significantly improves the well being of an individual. To your surprise, this natural remedy can prove helpful for cancer patients too.
Yes, aromatherapy can prove conducive to cancer symptom management. Inhaling and massage, both the ways are worthy & result-oriented for cancer patients. So, which certified organic essential oils can help and should you count on it, know everything here!
Do Essential Oils Helpful in Dealing with Cancer or Related Issues?
Well, of course, pure organic essential oils are not the direct treatment to deal with cancer. But studies show these oils have done miraculous change in the lives of people struggling with cancer. It has remarkably taken away nausea, stress, anxiety from them and improved their sleep to a great extent. This overall helps in keeping the patients calm which is a booster for them for getting positive results from their cancer treatments.
Different aromatherapy essential oils have different properties and also differ in their results. Let us gauge bout what oil can benefit cancer patients in what way! Get the rundown here!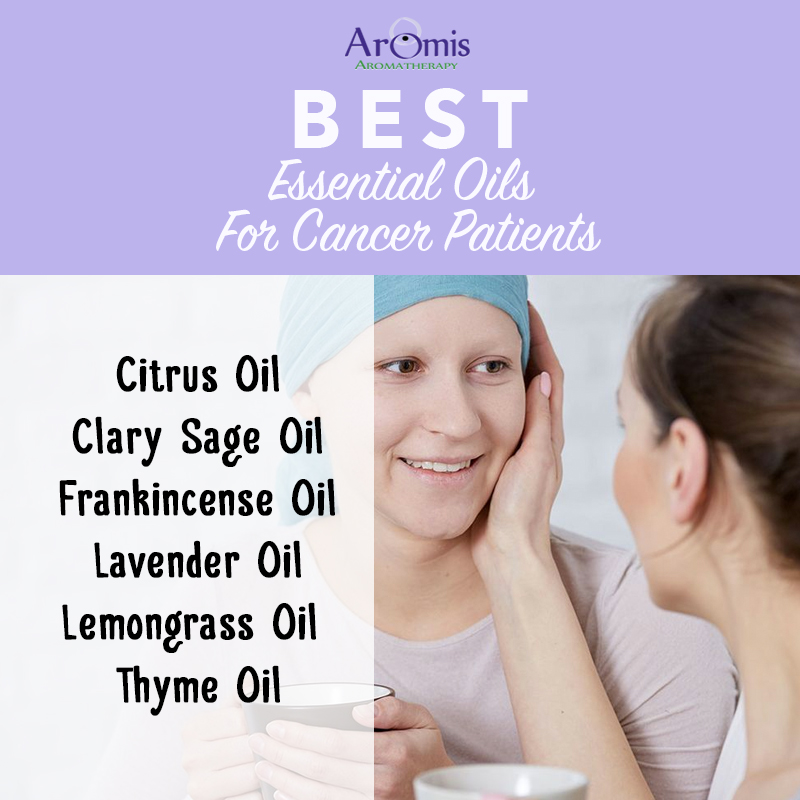 Essential Oils and Their Benefits!
It's a flowering herb that is extracted from buds & leaves of the plant. This oil is native to the Mediterranean basin. Its refreshing scent is crucial for good health and is an imperative part of aromatherapy treatments.
Benefits for Cancer Patients
It reduces stress by calming down the mind which is essential for cancer patients. Cancer patients fall into depression, usually. Clary sage oil is a great anti-depressant oil that helps in reducing the stress hormones.
It is quite effective to treat bacterial infections
Frankincense Essential Oil
Frankincense oil is a traditional natural remedy used for a wide array of purposes. It is extracted from the Boswellia tree and delivers an abundance of health benefits. It is helpful for cancer patients as well.
Benefits for Cancer Patients
This oil consists of boswellic acid which is productive for fighting inflammation. Inflammation is linked to cancer in most of the studies, so, it is good to get the goodness of this oil to beat inflammation.
It is a good cancer cell attacker. We can't say it directly do that, but as per studies, it prevents cancer cells to grow and help you get relief from it one day.
Lavender Essential Oil
Lavender oil is extracted from the flowers that are native to the Mediterranean region. This oil's benefits are versatile and can heal a person from several pains. Its gentle properties make it a good oil for cancer patients as well. However, breast cancer patients should avoid this oil.
Benefits for Cancer Patients
It carries antioxidant properties that protect the brain of the patient against any stroke and injury.
This oil is best to use for calming the mind. It soothes out the pain when massaged properly.
Lemongrass Essential Oil
Lemongrass oil is usually used for herbal medicines and in cooking as well. It's a grassy plant and oil is extracted from its stalks and leaves. It complements citrus scent that you can easily find in most of the personal care products.
Benefits for Cancer Patients
It triggers those mechanisms that produce cancer cells.
It has anti-inflammatory properties and anti-cancer activity.
Thyme Essential Oil
Thyme oil is a blessing in the herbal world as it plays a significant role as a herb & food seasoning as well. It has proven as a blessing for patients suffering from varied diseases.
Benefits for Cancer Patients
It gives promising results in fighting with breast cancer.
Its anti-cancer properties don't let the body create cancer cells and it admirably balances up the hormones for better outcomes.
Chamomile Essential Oil
Chamomile oil is well known for health benefits and it's endless properties to beat the ailments. This is basically extracted from plants.
Benefits for Cancer Patients
It soothes the mind, supports the immune system and promotes sleep.
It perfectly deals with anxiety and depression among cancer patients.
Peppermint Essential Oil
Peppermint oil doesn't need any introduction today. It is extracted from the peppermint plants and consists of several benefits. It is even used in cosmetic products and several beverages too.
Benefits for Cancer Patients
It helps cancer patients to deal with common side effects like nausea, vomiting, etc. arising from the cancer therapies.
It prevents mucositis that usually occurs in neck & head cancer patients when they undergo radiotherapy.
Basil Essential Oil
Basil or better known as, Tulsi is always included in cancer healing box, because of it's stress-relieving properties. It improves the immune system, decreases anxiety & stress levels.
Benefits for Cancer Patients
It's a great source of Vitamin K, Lutein, Beta-Carotene, Ursolic Acid, which are good for cancer patients.
It induces apoptosis to beat breast cancer.
It carries anti-inflammatory, anti-fungal, anti-oxidant, anti-microbial properties.
Don't Delay! Choose the Right One!
Cancer word is so horrific that people usually fall into stress. However, the above-mentioned certified organic essential oils can do miracles not directly, but indirectly by healing the & curing the symptoms to a great extent. You can visit ArOmis to pick any pure organic essential oil.